KOMABA AGORA THEATER
Home of Seinendan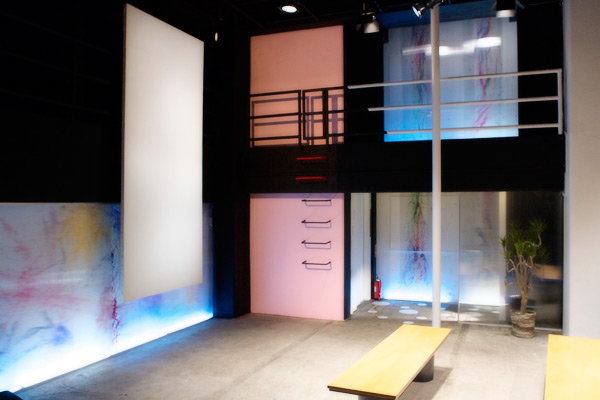 KOMABA AGORA THEATER (stage design of "TOKYO NOTES")
Seinendan is based at the Komaba Agora Theater where Oriza Hirata, Seinendan's leader, is artistic director, and the company takes a major part in the management of the theater. Seinendan and the Komaba Agora Theater have been active in collaborating with theater practitioners and local authorities both domestically and internationally, carrying out co-productions and holding theater festivals. Seinendan is not a typical Japanese theater troupe whose main activity is putting on performances. It promotes various theater activities, working closely with the Komaba Agora Theater. These activities distinguish Seinendan as a truly comprehensive "theater company" which is not yet the norm in Japan.
Theatrical Information Clearing House
Since its opening in June 1984, Komaba Agora Theater has hosted an average of more than 50 productions per year. Although it is a small venue, it enjoys a high reputation in the theater community for the quality of its equipments as well as for its excellent facilities, such as a rehearsal studio that can also be utilised for accommodation. The theater also serves as a theatrical information clearing house, maintaining a full database of theaters, artists, and related organizations throughout Japan. Komaba Agora Theater seeks a unique possibility of Japanese small theaters, where a theater works not only as a hall for rent but also as a venue that can provide every possible theater-related information and services.
Theater Supporter System
Komaba Agora Theater is no longer a hall for rent like many other theaters in Japan. In April 2003 Komaba Agora Theater started a new system in which it produces all its programs. This new system enables us to provide the audience with high quality, frontrunning productions constantly, as well as support and nurture for new and young talents. By promoting our Theater Supporter System, we offer young performers such resources as quality audience (theater supporters) and public and nongovernmental subsidies.
Our aim is to establish a new framework that makes the most of the present, lively situation of the Japanese theater scene, with a number of the young and talented vying with each other. Our annual line-up is decided by Oriza Hirata (the artistic director), Seinendan's in-house directors, and other young and aspiring directors outside the company. We also have visiting dramaturgs (curators) both in Japan and overseas.