"Tokyo Notes" Tour in Romania 2010
"Tokyo Notes"
Text and Direction:Oriza Hirata
Romanian Translation : Roman Pasca
English Translation : Cody Poulton
Performance in Japanese with Romanian and English subtitles.(at Craiobva Romanian only)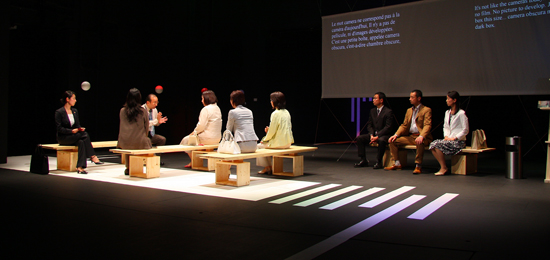 An assortment of people visit this small art museum in Tokyo in near future to see the paintings evacuated from war-torn Europe. Focusing on their various concerns (family, job, war, art, etc.) this play constructs a whole world of its own, just like a picture made from mosaic tiles. This piece, whose title pays homage to a masterpiece by filmmaker Yasujiro Ozu, "Tokyo Story (Tokyo Monogatari)," is one of the most renowned works of Oriza Hirata. In 1995 he won the Kishida Kunio Drama Award with this piece. Since then Seinendan has been presenting
"Tokyo Notes" in various venues in Japan and overseas, including Europe, North America, Australia, Southeast Asia and Korea.
Cast

Kenji Yamauchi, Hiroko Matsuda, Mizuho Tamura, Kenichi Akiyama, Koji Ogawara, Satoshi Kobayashi, Kumi Hyodo, Mizuho Nojima, Hiroshi Otsuka, Ryuta Furuya, Chikako Suzuki, Minako Inoue, Tadashi Otake, Yuri Ogino, Tatsuya Kawamura, Mami Goto, Umi Nagano, Natsuko Hori, Makiko Murata, Miyuki Moriuchi

Staff

Scenography: Itaru Sugiyama
Lighting: Tamotsu Iwaki
Sibiu [Sibiu International Theater Festival 2010]
Date

June 2 22:00
June 3 16:00

Venue

CAVAS-Centrul Decercetari Avansate Inddomeniul Arelor Spectacolulul

http://www.sibfest.ro/
Craiova
Date

June 6,7 18:00

Venue

Universite din Craiova

Departmentul de Arta Teatrala(situate in incinta Facultatii de Agromomie)
Str.Libertatii,nr.15 1100 Romania
Tel./Fax. +40 251 413 085
http://www.actorie-craiova.ro/
Bucharest
Date

June 9,10 19:00

Venue

Teatrul Nottara

B-dul Magheru 20, 70 158, sector 1,Bucuresti, Romania
tel. +40 1 318.89.01 /+40 1 318.89.02 http://www.nottara.ro/