"Tokyo Notes"

On "Tokyo Notes"
As its title implies, I got an idea for "Tokyo Notes" from Yasujiro Ozu's masterpiece "Tokyo Monogatari (Tokyo Story)." Where in Ozu's film the old parents visiting their children in Tokyo are delineated scene after scene, "Tokyo Notes" depicts the siblings, now living separately in Tokyo, gathering in the lobby of an art museum in Tokyo when their art-loving sister living in their hometown comes to visit. Naturally, each of them has his/her own life and pains but now their only common interest is who takes care of the parents. As another background, it is suggested that a major war is going on far away in Europe. But the people gathered here look so unrelated to the great global shift, concerned only about their own lives and problems.
If theater is a device to depict the vibrations of human minds, this piece may have been an attempt to reveal the minutest of such vibrations. I hope to present to the audience what vibrates quietly in the double chaos of the enormous conflict between nations and that in a family, the smallest unit of people, in the 90's.
Oriza Hirata
About the Piece
Premiered in 1994, "Tokyo Notes", is one of the most renowned works of Oriza Hirata and Seinendan. It depicts the gradual dissolution of family and human relations in modern society and has been highly acclaimed both in Japan and abroad. In 1995 Hirata won the 39th Kishida Kunio Drama Award with "Tokyo Notes". Seinendan has presented this piece in various theaters and art museums in Japan, as well as 18 cities in 14 other countries. To date it has been translated into 10 languages. Non-Seinendan presentations include a 2-month tour of France in 2000 by a cast of French actors, directed jointly by Frederic Fisbach and Oriza Hirata. This came about as the result of a well-received reading of the play in a 1998 FIFA World Cup-related event when it was selected as the contemporary drama piece to represent Japan. In 2003, a Korean theater company performed a long run of "Seoul Notes", an adaptation of the play in Seoul. "Seoul Notes" was presented again successfully in 2004 and 2005, in Seoul and Tokyo respectively, as a collaboration between Japan and Korea. In the fall of 2008, two versions sharing the same stage set were presented in Brussels, one by Seinendan and the other by a Belgian cast directed by Xavier Lucomski. After the premiere of Lucomski's version in February it was enjoyed by full-house attendances. Staged readings held in Cardiff and London in February 2008 also introduced this piece to the British theater world.
Synopsis
The story takes place in the lobby of an art museum in the near future.
A major war is being waged in Europe. In front of the paintings evacuated from the war-torn areas, the visiting Japanese family members, friends and lovers endlessly continue fragmentary conversations about taking care of ageing parents, their future careers, love, inheritance and what not.
Against the huge backdrop of war, it scrupulously portrays the Japanese people living their ordinary everyday lives, revealing a whole range of problems and crises of the modern society.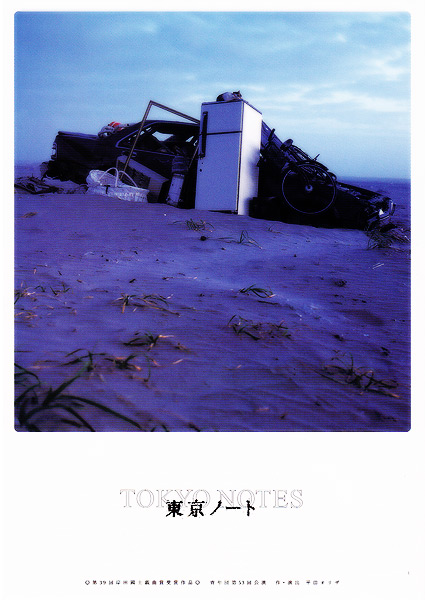 Tokyo Notes
"東京ノート" - Tokyo Note -
YEAR CREATED:

1994

LENGTH:

1 hour 30min.

NUMBER OF CHARACTER:

20 ( male: 9 female: 11 )

TRANSLATED SCRIPTS:

Korean, French, English (American English/ British English), Itarian, German, Chinese, Thai, Malay, Indonesian, Flemish, Rumanian
Scripts,Video,DVD,Educational CD-ROM
Scripts
The French translation by Rose-Marie Makino-Fayolle, Les Solitaires Intempestifs, 1998 7.62EURO ISBN: 2-912464-19-6
The English translation by Cody Poulton, in Vol. 19.1 of "ASIAN THEATRE JOURNAL," University of Hawai'i Press, 2002
The Korean translation by KIM Kyong-Won is available.
The Italian translation by Chiara Botta is available.
The German translation by Peter Goessner is available.
Video
Seinendan's performance, subtitled in English, is on sale from Kinokuniya in NTSC and PAL formats (ISBN: 4-87766-032-1). 1998 ¥4,990
DVD
Seinendan's performance, subtitled in 6 languages,(Japanese/Chinese/Korean/English/French/German) is on sale from Kinokuniya (4523215021920). 2007 ¥5,040
Educational CD-ROM
Japanese Language Course: "Real Japanese Using Oriza Hirata's Play, Tokyo Notes" is on sale from Kinokuniya (ISBN: 978-4-86271-109-0). 2007 ¥39,900
Performance History
Productions by Seinendan
October 1999, Seoul, Korea
October - November 2000, New York, Philadelphia, Pittsburg and Victoria, U.S.A. / Canada
September - October, 2002, Dublin «The Dublin Theatre Festival», Ireland
October 2002, Rome, Italy
October 2002, Aigle, Switzerland
October 2002, Paris and Aix-en-Provence, France
February 2004, Hong Kong «The Hong Kong Arts Festival», Hong Kong
February 2004, Melbourne, Australia
June 2006, Bangkok, Thailand
June 2006, Kuala Lumpur, Malaysia
June 2006, Jakarta, Indonesia
October 2008, Gennevilliers, France
October 2008, Brussels, Belgium
October 2008, Hull, United Kingdom
September 2009, Geneve, Switzerland «La Batie Festival de Genève»
October 2009, Seoul «The 9th Seoul Performing Arts Festival / the 16th BeSeTo Theater Festival», Korea
Productions by Others
January - March 2000, Brest, Paris, Aubusson and Clermont-Ferrand, France Co-directed by Frederic Fisbach and Oriza Hirata
April 2003, Aix-en-Provence, France Directed by Danielle Bré
May 2003, Seoul, Korea "Seoul Notes" Directed by Park Kwang Jung
October 2004 / October 2005, Seoul, Korea "Seoul Notes" Co-directed by Park Kwang Jung and Oriza Hirata
February 2008, Brussels, Belgium Directed by Xavier Lukomski