"Citizens of Seoul"
On "Citizens of Seoul"
In late the 1980s, in search of new theater methodology, I was nebulously looking for a way to depict life itself, rather than how one should live his life, a way to portray people at the mercy of their own morality, rather than what morals is. "Citizens of Seoul" was my first attempt after a long trial-and-error period to somehow realize that goal.
This piece is set in Seoul in 1909, a year before Japan's so-called "annexation" of Korea, which was in fact a complete colonization. The ordinary everyday life of a Japanese family is casually and scrupulously portrayed in "Citizens of Seoul." In the background lie the nonchalant arrogance and ridiculous isolation of the colonial "rulers."
I believe whether or not someone is guilty and responsible for something depends on if the act is chosen of one's own free will, regardless of whether one was malicious or not. Certainly, in the case of the so-called "annexation" of Korea, Japan and the Japanese could have chosen not to do it. We could have chosen a different Japan.
We didn't present "Citizens of Seoul" in Korea in the Korean language in order to develop a friendly relationship. We performed in Seoul, and then in Pusan, in front of the Korean audiences, because we wanted them to think about what this play has to tell. I wrote and directed this piece and presented it in the Korean language in the belief that it is the only way for me to take to bear my share of responsibility in Japan's history.
"Citizens of Seoul" deals with the problems of the colonial era but, I think, it can also be viewed as a contemporary play about the isolation of the people in the present world who cannot have the sense of belonging to anywhere. I believe that is the most important reason the piece has been repeatedly presented for more than 15 years.
Oriza Hirata
About the Piece
"Citizens of Seoul" premiered in 1989, is one of the most important early works of Oriza Hirata and Seinendan. Set in Seoul in 1909, a year before Japan's complete colonization of Korea, and depicting the guilt of the un-malicious, this piece marked the starting point of our contemporary colloquial theater.
In 1991 we went on our first Japan tour with "Citizens of Seoul" and in 1993 we performed this piece in Seoul and Pusan, Korea, as our first overseas production. The 1993 production in Korea was a challenge for both Seinendan and the Korean audience. Here a Japanese theater company presented in Korea a piece about the colonial era, written by a Japanese playwright in the Korean language.
Like "Tokyo Notes," another highly acclaimed Seinendan work, "Citizens of Seoul" has been repeatedly presented in various regions of Japan for more than 15 years. It has been translated into Korean, English, French and Russian. The sequels to this play, "Citizens of Seoul 1919" and "Citizens of Seoul 1929: Graffiti," were premiered in 2000 and 2006 respectively, and both plays received critical acclaim, expanding the world of "Citizens of Seoul."
In 2005, Frederic Fisbach, a French director, directed "Citizens of Seoul" in Japan. Fisbach's production was officially invited to the Festival d'Avignon in 2006, and the well-structured script was given high. Arnaud Meunier, another French director, presented "Citizens of Seoul" in French in October 2006, at the Theatre National de Chaillot, the second most prominent theater in France.
Synopsis
Set in Seoul (then Keijo) in 1909, a year before Japan completely colonized Korea, this piece depicts an ordinary afternoon of a Japanese family living there, revealing the real picture of the creeping colonial rule. It painstakingly delineates the ordinary citizens burdened with unconscious guilt.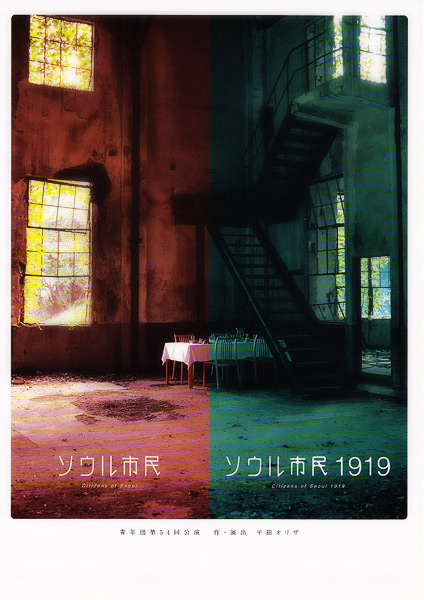 Citizens of Seoul
"ソウル市民" - Citizens of Seoul -
YEAR CREATED:

1989

LENGTH:

1hour 30min.

NUMBER OF CHARACTER:

18 (Male : 7 Female : 11)

TRANSLATED SCRIPTS:

Korean,English,French,Russian

DVD with Subtitles:

Korean,English,French
Scripts,Video,DVD,Educational CD-ROM
Scripts
The Korean translation by Seinendan is available.
The English translation by John D. Swain, in "Half a Century of Japanese Theater 1990s Part1," Japan Playwrights Association, Kinokuniya, 1999 ¥5,000 ISBN:4-314-10135-0
The French translation by Rose-Marie Makino-Fayolle, Les Solitaires Intempestifs, 2000 9.60EURO ISBN:2-912464-58-7
The Russian translation by И.H.CИPEHKO (ISBN: 5-09-89163-021-4) is on sale from Серебряные нити
Trilogy DVD BOX
"Citizens of Seoul" "Citizens of Seoul 1919" "Citizens of Seoul 1929: Graffiti" Seinendan's performance, subtitled in 4 languages, (Japanese/Korean/English/French) is on sale from Kinokuniya (4523215037136). 2008 ¥14,400