ORIZA HIRATA
Playwright, director, leader of Seinendan, artistic director of Komaba Agora Theater and artistic director of Kinosaki International Arts Center. Born in Tokyo in 1962. Graduated from International Christian University, College of Liberal Arts, Humanities Division.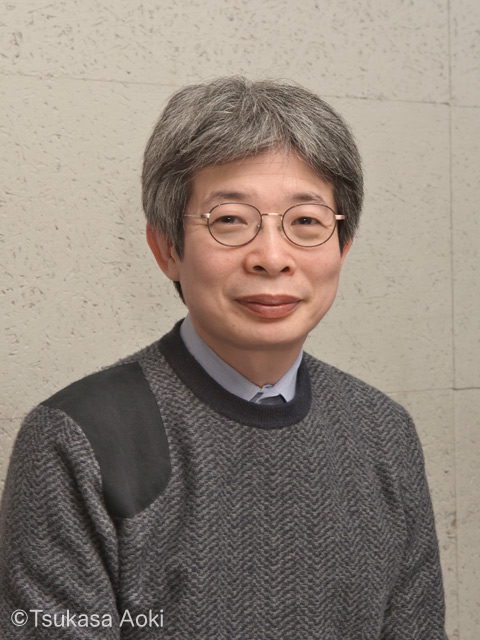 In 1995, Hirata won the 39th Kishida Kunio Drama Award with "Tokyo Note (Tokyo Notes)."
In 1998, he received the 5th Yomiuri Theater Award Outstanding Director Award, for his production of "Tsuki no Misaki (The Cape of the Moon)," a play written by Masataka Matsuda.Hirata wrote and directed "Ueno Dobutsuen Sai-sai-sai Shugeki (Attacking Ueno Zoo for the Fourth Time)" in 2002 and won the 9th Yomiuri Theater Award for Outstanding Production.
In 2002, he won AICT (Association Internationale des Critiques des Théâtre) Critique Award for his book "Geijutu Rikkokuron (Arts as the Basis of a Nation) " published from Shueisha.
In 2003, he won the Grand Prix of the 2nd Asahi Performing Arts Awards with "Sono Kawa wo Koete, Gogatsu (Across the River in May)," which was an event for the Year of Japan-ROK National Exchange in 2002. In 2006, he won the Montblanc de la Culture Arts Patronage Award. In 2011, France's Ministry of Culture honored Hirata with the Chevalier of the Order of Arts and Letters.
At present, Hirata is research professor of the COI Research Promotion Office at the Tokyo University of the Arts, visiting professor of the Osaka University Center for the Study of Co* Design, visiting professor and special advisor to the president at Shikoku Gakuin University and Kyoto Bunkyo University, and general manager of the Fujimi Culture Hall KIRARI FUJIMI. He is also board member of the Japan Foundation for Regional Art-Activities and the Japanese Society for Theatre Research and advisor for cultural politics for Toyooka City.
A playwright and director, Oriza Hirata is one of the key figures in the contemporary theater scene in Japan. While in college Hirata founded Seinendan Theater Company to pursue and practice his "contemporary colloquial theater theory." This new and practical method, also explained through his books such as "Gendai Kogo Engeki no tameni (For Contemporary Colloquial Theater)," has had a constant impact on the theater world since 1990s. The Komaba Agora Theater, Seinendan's home base where Hirata is artistic director, is a house for exchange of information between both national and international theater troupes. Hirata has been playing a great role in introducing regional theater companies to Tokyo audiences for almost 20 years through Agora Theater's various programs including the End-of-Millennium Theater Festival where he was festival director. Hirata's prescient efforts facilitated regional theaters to get much attention in the 1990s. Hirata continues to extend his range of collaborative activities. In the spring of 1999 he was festival director of Toga Spring Festival, and from 2002 to 2007 he was artistic director of Fujimi Culture Hall KIRARI FUJIMI, Saitama Prefecture. Hirata has been the artistic director of Kinosaki International Arts Center since 2015.
In recent years he has also eagerly collaborated internationally, through workshops and joint projects, with artists in France, Korea, Australia, the U.S.A., Ireland, Canada, and more. In 2002 he co-authored and co-directed the New National Theatre production of "Across the River in May," a collaboration of Japanese and Korean theater practitioners, which won significant theater awards in both countries. Two 2007 projects, "Songs of Farewell" with French theater troupes and "Lost Village" with Chinese, were further additions to Hirata's already unrivaled collaborative achievements. "In the Heart of a Forest," his first play with no Japanese characters which he wrote on commission from Le Théâtre Royal Flamand in Belgium in 2008, also won favorable recognition. An internationally acclaimed playwright and director, Hirata is among the most distinguished in the Japanese contemporary theater scene. In 2009 he co-wrote and co-directed "Utopia?" for a Japanese/Iranian/French co-production organized by the Centre Dramatique National de Besançon, directed the French language version of his own "Sand and Soldiers" at Théâtre de Gennevilliers. In 2010, a Japanese/French co-production of "Tori no tobu takasa" successfully completed its run at Comédie de Caen, Théâtre de la Ville in Paris and other venues. The same year, with an international cast from China, Japan and Korea, "Tokyo Notes" was produced at the BeSoTo Theater Festival.
In 2011, France's Ministry of Culture honored Hirata with the Chevalier of the Order of Arts and Letters. In 2012, Hirata's "Three Sisters (Android Version) and Android-Human Theater "Sayonara" were performed at Le Festival d'Automne in Paris. In 2014, "Metamorphosis (Android Version)" starring internationally renowned French actress Irene Jacob was produced and toured in Europe. In 2016, the Hamburg State Opera commissioned the opera "Stilles Meer" in which Hirata was responsible for both the libretto and the staging.
Hirata and Seinendan are also active in education. Since his workshop method was included in one of the official national Japanese textbooks for junior high school (in 2002) and elementary school (in 2011), a lot of students have been creating drama in the classroom. Our wide variety of projects include developing comprehensive theater education programs with local organizations and NPOs, and holding workshops for the disabled.
Hirata was professor of theater at Obirin University, a pioneer in creating a new theater education program open to society (2000-2006). He moved to Osaka University Center for the Study of Communication-Design in 2006 to pursue the research of finding out where society and theater meet and to lead the robot theater project. In addition, as special advisor to the president of Shikoku Gakuin University, Hirata has explored possibilities of theater education in a regional university. Since 2014, Hirata has pioneered new areas for education and research as research professor at the Art Innovation Center at the Tokyo University of the Arts (research professor of the COI Research Promotion Office at the Tokyo University of the Arts).